Welcome to Telegraph Newspaper Ad Booking Portal. Use this portal to book any Newspaper Ad instantly online for Matrimonial, Property, Recruitment, Public Notice at the lowest rates. Pay via Credit Cards, Debit Cards, UPI, Net Banking or Cheque.
Launched on the 7th of July, 1982, The Telegraph in its short life span of 26 years has become the largest circulated English daily in the eastern region published from Calcutta. It is considered to be the fastest growing in eastern India by the Audit Bureau of Circulations, India. The Telegraph is also published from Guwahati (to cater to the entire northeast), Siliguri (for North Bengal and Sikkim), Jamshedpur, and Ranchi (for Jharkhand).
---
Ad Formats In Telegraph :
Ad Type
---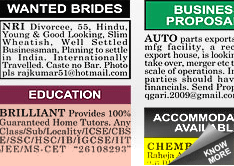 There are two types of classified ad such as Classified Text Ad and Classified Display Ad. Classified Text Ad is the most cost-effective forms of advertising in any Newspaper. The Ads appear in the classified section in the standard running text format. Rate is charged per Line/Word/Character basis. Enhancements like tick mark, colour, bold font, border lead to extra charges. Classified Display Ad is more visually appealing than classified text ads. Here one can add customized font, colour, logo or image to make the ad visually more effective for the target readers. These ads are charged on the basis of per sq.
Display advertisements are the most extravagant form of newspaper advertising. They can be published on any page and can occupy any amount of space in a specific newspaper page.
---
Select The Telegraph Supplement To Advertise Under:
AD SECTIONS
---
Why advertise in Telegraph Newspaper ?
---
WHY ADVERTISE IN
Telegraph

NEWSPAPER?
---
Any kind of business, whether it is run online or offline, it always requires customers. Advertisement, being the only medium to reach the target group, has become the gateway for businesses to enter the competition in the market. Thus, In today's economy advertisement plays a vital role. But it is not just for business advertisers or working professionals. Newspaper advertisements proved that in recent years.
Nowadays individuals place ads more often to fulfill their requirements. Thus they have also taken their place in the group of advertisers. Advertising agencies started valuing all advertisers, irrespective of their background and ad placing history, considering all of them as their target buyers. releaseMyAd, after a sound observation, has noticed that The Telegraph is a choice of many.
Many Advertisers, especially the advertisers of West Bengal prefer The Telegraph because :
The Telegraph by ABP group has created its reputation among its readers by providing them quality content, since 1982.
It's readership record in east-India and some parts of North-east India has convinced a lot of advertisers.
Ad rates are very reasonable in many of the categories.
The Telegraph is the fifth-largest English newspaper in India which has five editions Kolkata, Guwahati, Jharkhand, Siliguri, and Ranchi.
Being an advertiser, you can get your message reach to most of the English speaking households of Bengal, Jharkhand, Assam, and Orissa along with the far corners of north-east India. To book your ad in The Telegraph newspaper releaseMyAd can help you do that in a hassle-free manner.
You can use our booking portal to book ads in various categories like Matrimony, Obituary, Business, Property etc. Advertising with The Telegraph has several advantages like:
The Telegraph has established itself as a brand with high standards in reporting news as it is.
A huge readership in east India including the north-east.
The ad rates in various categories of The Telegraph are quite reasonable.
The most popular English newspaper of east India is The Telegraph by the ABP group. The newspaper reaches to most of the English speaking households of Bengal, Jharkhand, Assam and Orissa along with the far corners of north-east India. With a readership of more than a million in the past year The Telegraph remains one of the best platforms to advertise in.
View Telegraph Ad Rates for :
ADVERTISEMENT RATE
---
---
How To Book An Ad Telegraph Newspaper?
---
HOW TO BOOK AD IN
Telegraph

NEWSPAPER?
---
The governing body of all media publications INS (Indian Newspaper Society) has fully accredited us. releaseMyAd has got a very simple ad booking process which consists of only 3 steps:
Choose your ad type, ad category and ad location
Compose your ad. If you have chosen to employ classified display, or display advertising but lack the necessary ad material, you can give us a brief of what you want in the ad copy and we can design the ad for you.
Select advertising dates and clear payment via a host of online & offline methods.
Our system has incorporated the authorised advertising schedule of The Telegraph, which allows you to book advertisements in The Telegraph on your specified dates and without confusion. Also, we make sure all your payments made to us are secure and thus they are handled by SSL encryption.
We have a lot of payment options like Debit/Credit Card, Net Banking,Demand Draft, Cheques, NEFT etc. In some locations we also have cash collection facilities from your office or home. Once the payment reaches us, we send you an invoice and make sure your ad is published.
releaseMyAd in association with The Telegraph has brought to you an online platform that offers advertisers the lowest rates of advertising, discount prices, circulation details etc. You can use this online portal to book your advertisement in The Telegraph from anywhere and anytime you want.
You can book 3 types of ads in The Telegraph newspaper with us:
Classified Text Ads: These are the most common ads that form a part of the Classified Page. Only words describe these ads without any pictures or enhancements. Advertising rates of text classified ads depend upon the number of lines or words.
Classified Display Ads: These are hybrid ads constituting of words and images and form part of the classified section. The ad rates for classified display are calculated on the size of the ad at per square centimeters.
Display Ads: Display ads are the costliest newspaper ads and require a fair amount of work on the designers' part. These are measured in square centimeters and can be put in any page of the main paper or its supplementaries.
For any more details and queries about The Telegraph and the booking of your advertisement, please visit the Frequently Asked Questions section or Question & Answer Forum.